Newsletter August 2023
21 August 2023
Our Customers, their aircraft…
Arni and its ULC, between ice and fire…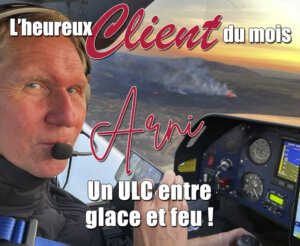 Arni Gunnarsson is one of our customers. A private pilot, this 61-year-old Icelandic has been flying since he was 16 years old and has logged 4,500 flying hours. Also an instructor, he is based at the small Fisfelag Reykjavikur airfield, just outside Reykjavik. Before going any further, it's worth pointing out that light aviation is very much alive and well in Iceland. More than a way of life, it's a fairly common means of transport, with 98 airfields. That's a lot for a small country, not to mention the unclassified tracks on private property.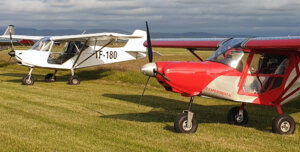 Yes, Icelanders fly a lot, and Arni Gunnarsson is no exception to the rule, as for a long time he owned two aircraft: an ICP Savanah and a Skyranger! While these two machines are perfect for flying locally and landing at unusual sites, Arni lacked an aircraft to enable him to fly further, faster – in short, to criss-cross his country.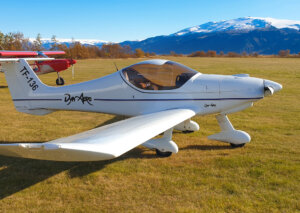 In 2007, while accompanying a friend to the Aero-Expo in Friedrichshafen, the two men discovered the MCRs and were won over. While his friend bought one immediately, Arni waited until 2018 to buy his own. It will be a second-hand MCR ULC (in excellent condition) built in 2009 and powered by a 100hp Rotax 912 with a two-bladed variable-pitch propeller. Equipped with a Dynon D-180 and an old-generation Garmin on the dashboard, Arni prefers to use his iPad for navigation.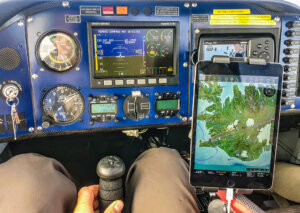 With this MCR ULC, Arni never stops flying and sharing it with his wife and son, who is also a pilot. He rediscovers his country, its raw and wild landscapes, its mountains, its glaciers and, of course, its volcanoes. In fact, as soon as an eruption occurs, Arni doesn't wait a second: he jumps into his MCR and admires it from the air, even if it's on the other side of the country.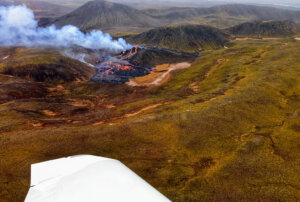 Because, with the ULC, even if the eruption is at the other end of Iceland, the aircraft gives him enough range to get there, take the time to fly over the site, and return to Fisfelag Reykjavikur without needing to refuel.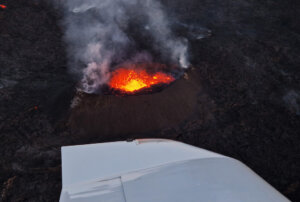 It should be pointed out that, according to Arni Gunnarsson, despite the violent turbulence encountered near erupting volcanoes, the ULC has always remained perfectly controllable, safe and very stable, to the extent that it is still possible to take superb photos of its flights, as shown in the image below…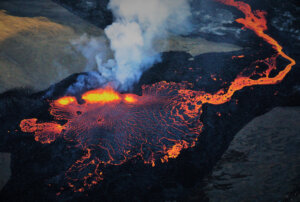 Surprisingly, the Icelandic pilot has deliberately chosen not to equip his ULC with an airframe parachute. While this may seem surprising, the answer he gives is full of meaning: "In the event of engine failure, I would prefer to choose where I would land. I wouldn't want to be under a parachute over lava!" It's easy to understand, especially as he's used to flying high enough to find a safe landing zone in an emergency.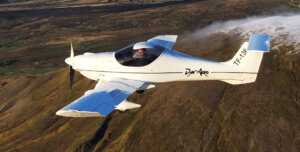 What's more, as well as being a land of fire, Iceland is also a land of ice. Indeed, the country has no shortage of splendid snow-covered landscapes made up of mountains, glaciers and large frozen lakes, on which Arni has not hesitated to land on occasion, despite the cold.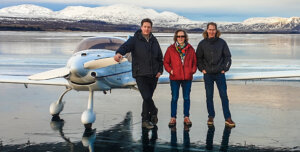 In Iceland, the elements certainly put this little MCR ULC to the test… Yet it never did its owner any harm, proving its reliability at every turn, even in hostile environments!
Arni speaks about his ULC…
My ULC is manoeuvrable and very easy to fly. In 4,500 hours of flying, I've flown a lot of different machines, but this one is incomparable, because it goes far, fast and uses very little fuel: 10 liters per hour at cruising speed. Above all, I dreamed of being able to take off in the morning, fly to the other end of my country and be at home in the evening. And thanks to the ULC, I make that dream come true every time I fly it. In short, it's the best!
What's new with SE AVIATION AIRCRAFT?
Fly'In MCR 2023 : last call for boarding!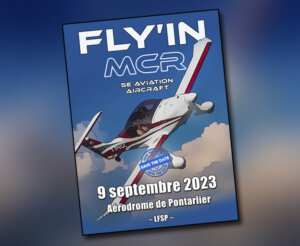 We would like to remind you that the FLY'IN MCR 2023 will be held on Saturday 9 September 2023, from 10am to 6pm (last departures), at Pontarlier airfield (LFSP).
If you haven't registered yet, don't delay, as we have set a deadline of 15 August.
The SE AVIATION AIRCRAFT team is growing!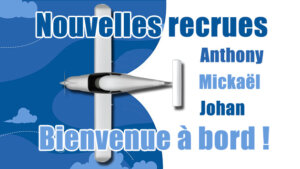 This month we are delighted to welcome three new members to our team:
• Anthony joins the mechanical department,
• Mickaël is joining the assembly team,
• Johan will be working in the paint shop.
A warm Welcome to them!