NEWSLETTER SEPTEMBER 2023
2 November 2023
Our Customers, their aircraft…
Jacques and his Pick-up : an obvious choice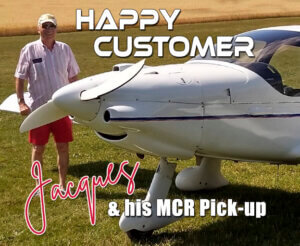 Jacques Bury is one of our customers. A private pilot since 1977, he has logged 2,300 flight hours on aircraft and microlights. He has owned and piloted a lot of different machines: Morane-Saulnier Rallye (the plane with which he learned to fly), Robin DR-400 and ATL, Zenith, etc. For a while he even owned a Mudry Cap 10, and today he flies an MCR Pick-up.
An avid reader of the aviation press, it was while browsing the pages of magazines extolling the qualities of these machines that he discovered the MCRs. Convinced as much by the journalistic praise as by the aircraft's design, Jacques took the plunge in 2010 by buying a second-hand 2008 MCR Pick-up.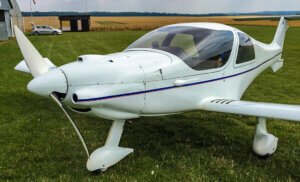 Registered F-JYJS, the ultralight had just 85 flying hours and was maintained to perfection, as it was… the company's demonstration machine! Powered by a 100hp Rotax 912S with a variable-pitch propeller, this Pick-up was also very well equipped: Dynon D180, AvMap GPS, three-axis autopilot, airframe parachute, transponder and above all, the optional 204-litre fuel tank (compared with 130 for the original). In addition, for the sake of comfort, Jacques entrusted his aircraft's seats to a saddler, who wrapped them in leather.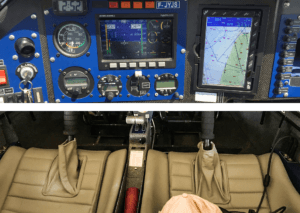 Today, after 720 hours of flight, this Pick-up is still in excellent condition. It is regularly maintained by SE Aviation Aircraft because, being based at the small private airfield at Dampierre-et-Flée (LF2123), Jacques only has to fly a few minutes to bring his MCR to our hangars in Pontarlier.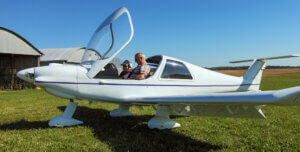 acques loves to travel with his plane. He flies a lot towards the sea, likes to follow the coastline, and even flies over the ocean to land at Belle-île-en-mer (French island in Brittany) or to Fréjus to enjoy the French Riviera climate. But above all, Jacques loves Corsica! And he is so much in love with it, that he has landed at all the island's airfields, and is unable to say how many times he has been there. It was there, in fact, that he made one of his most beautiful flights: circumnavigating the island at 1,500 feet in an hour and a half. You can imagine what a feast for the eyes he must have had that day!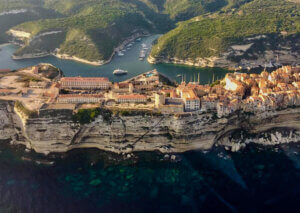 Before buying this MCR, he had one wish: he wanted "an ultralight that was very close to an aeroplane in terms of performance, flying pleasure, comfort and, above all, space". Once again, Jacques Bury likes to travel, but he likes to do it without any constraints. In other words, without having to calculate how much space you need for your stuff. With 1,000 liters of space available at the rear of the Pick-up and the possibility of loading up to 150 kg of luggage, it's fair to say that he's been well served.

Good flight or rather, "Bon voyage" to him!
When Jacques talks about his Pick-up…
've loved two aircraft in my life: the Mudry Cap 10… and the MCR Pick-up. I know they are very different, but without being able to say why, I feel exactely the same pleasure at their controls. They are two aircraft that I'm not indifferent to, perhaps because, like the Cap 10, the Pick-up is beautiful, very pleasant to fly and performs well. It's always a pleasure to look at it and to fly it. I've often been bored by the different machines I've owned, but that's not going to happen with this one: I've had my Pick-up for a long time, and I'm keeping it! What's more, I'm incredibly lucky because I'm only a few minutes' flight from Pontarlier. It's handy for maintenance at SE Aviation. And when I can't get there, SE Aviation comes to me: several times, Éric Fumey has come to help me out directly at Dampierre-et-Flée. What more could you ask for?
What's new with SE AVIATION AIRCRAFT?
SE Aviation Aircraft presents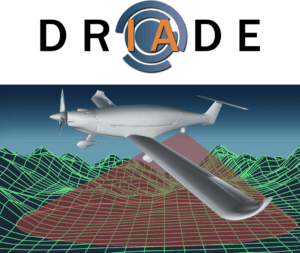 During the Fly'In MCR 2023 event on September 9th, SE Aviation Aircraft, represented by Éric Fumey and Sébastien Maginot, unveiled the DRIADE programme to a number of officials (DRIADE means "Drone de Reconnaissance et d'Intervention Autonome pour la Défense et l'Environnement" for "Autonomous reconnaissance and intervention drone for defence and environment).
Among those present were Mrs Marie-Guite Dufay, President of the Bourgogne Franche-Comté region, Mr Jean-François Colombet, Prefect of the Doubs department, Mr Patrick Genre, Mayor of Pontarlier, and the fire brigade commanders of the SDIS 21, SDIS 25 and SDIS 55 (Service Départemental d'Incendie et de Secours, meaning "departmental fire and rescue service").

Following the presentation of our future M.A.L.E. drone, which will be based on the MCR-4S architecture, each of them was very enthusiastic and confident about the future of the project.
We'll be telling you more about DRIADE very soon