NEWSLETTER FEBRUARY 2023
16 August 2023
Our Customers, their aircraft…
Andreas, Sabine and their MCR-4S…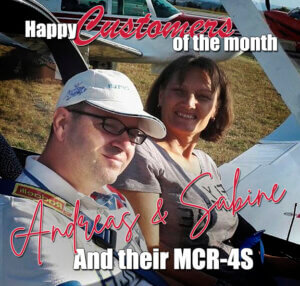 Andreas Kleuser is one of our customers. With his wife, Sabine, he is the proud owner of the MCR-4S Evolution F-PDKA based at Ingolstadt-Manching airfield (Bavaria, Germany). Private pilot since 2010, the man has already flown on a dozen different machines and has already logged… 2,000 flight hours! Yes, he flies a lot, sometimes up to 200 hours in one year. A real aviation enthusiast!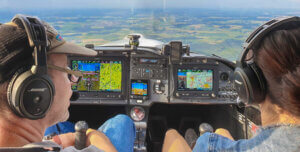 If the F-PDKA has only 18 hours of flight time, Andreas and Sabine logged more than 600 hours on MCR-4S, because before owning the F-PDKA, they had another one: the F-PUSS. The latter was mentioned three times in the German periodical Flieger magazin, thanks to a very artistic paint scheme:

Their new MCR-4S Evolution F-PDKA, which for the moment is a pure white, will also have an atypical paint scheme very soon, as Andreas plans to give it a Steampunk look. Let's hope that the German press will be as interested in it as their old MCR-4S. Anyway, at SE AVIATION AIRCRAFT, we can't wait to see it!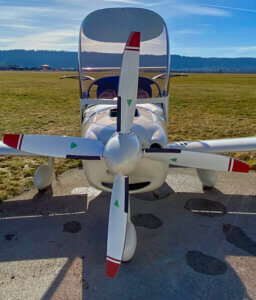 Andreas and Sabine use their airplane mainly to travel. They like to travel to the French Rivera, or to Italy. They have even flown for 10 hours straight, non-stop, to cross Germany, from north to south.
When they travel together, the couple even takes… their two bikes! OK, they are small folding electric bikes, but still!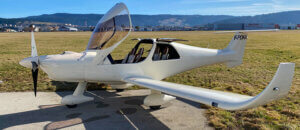 Finally, Andreas and Sabine's new MCR-4S Evolution is the very first SE AVIATION AIRCRAFT plane to have the new cabin, including our new ergonomic seats in carbon and stitched leather (see our news, below).
When Andreas speaks about its MCR-4S Evolution…
With its 141 horsepower Rotax 915iS and its four-blade propeller, our new plane has truly tremendous performance while being fuel efficient. It offers a lot of space and is perfect for small fields! The old seats were comfortable, but the new ones are even more so, in addition to giving a sportier look. I also want to say that before we bought our first plane, Sabine and I looked at several manufacturers… but the MCR-4S was by far the best. We are really happy with that plane, and we wouldn't change it for anything!
What if you choose Premium?
As we said in the previous part, the MCR-4S Evolution of Andreas Kleuser symbolizes a new era at SE AVIATION AIRCRAFT. Indeed, in this month of March 2023, we are proud to announce that our machines go up in range!
Yes, from now on, when you order your aircraft from us, you will have access to a whole list of premium equipment.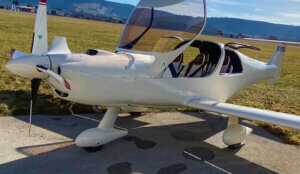 Discover a new world !
Discover a new world with our new ergonomic and wrapping seats made of carbon, with a weight of 4 kg per seat with upholstery. They are the result of a year of research and development! The retrofit is available on all MCR-4S.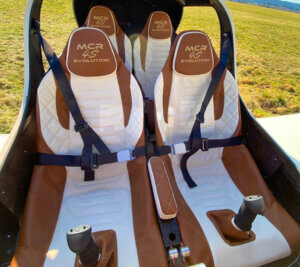 Thinner, slimmer seats increase the space and therefore the habitability on board.
A wide choice of colors and stitched leather upholstery is also available… and, if you wish, they can even be heated!
Your comfort was worth it!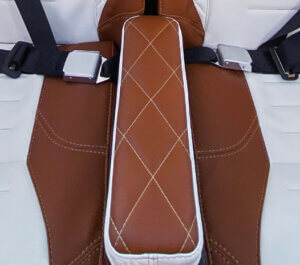 Also, new armrests, matching your seats' design, have been introduced.
What's more, to store your maps or anything else, we now offer you up to five glove boxes on board.
Wherever you go, your long flights will be more enjoyable…
Modern technology on bord !
The cockpit has not been forgotten either. It too has been upgraded! For example, in addition to a brand new center console and the possibility of having many USB ports on board (and even USB-C), the MCR-4S Evolution of Andreas Kleuser has a full glass cockpit of last generation…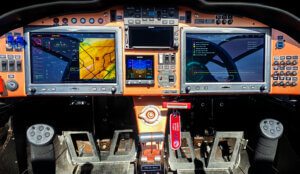 • Two Flight Display Garmin G3X
• Radio VOR-GPS Garmin GTN650
• Mixing box Garmin GMA245
• Real-time weather: Golze ADL200
In addition, Andreas Kleuser's MCR-4S Evolution, equipped with the 141 horsepower Rotax 915iS, is fitted with the brand new four-blade MT-Propeller MTV-36.
Very powerful, it generates little noise: 59dB!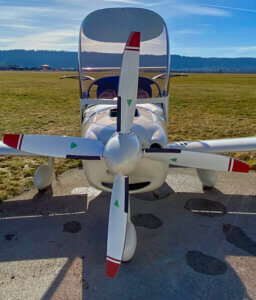 A refined shape!
Another major innovation on the MCR-4S Evolution is that the airframe parachute straps are now completely invisible: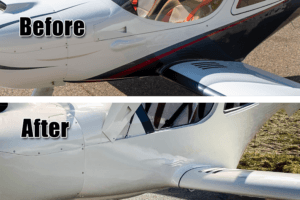 Indeed, all this essential safety device is now hidden in the fuselage, under the paint, giving our aircraft a more aesthetic and smoother line.
Yes, in one year, all the team of SE AVIATION AIRCRAFT will have mobilized its teams, so that once aboard your MCR-4S Evolution, you feel in a premium environment!
If you are interested in our new flagship, or if you wish to retrofit your MCR-4S, do not hesitate to contact us.