NEWSLETTER JANUARY 2023
10 August 2023
Best wishes and beautiful flights!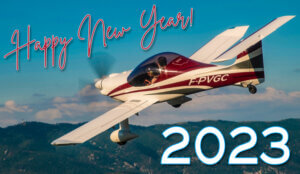 Health crisis, global warming, war in Ukraine, inflation, etc., these last years, we can say that the news are not good. However, for all of us, there is a way to escape, to dream, to contemplate: that is flying! Indeed: What could be better than imitating birds?
And, at SE Aviation Aircraft, we have a wellness policy: since we are fortunate to be passionnate about our job, let's always believe the glass is half full! For example, despite the recruitment of new members in our team, we are still understaffed and overwhelmed by customer requests. But above all, for us, having too much work (our 2023 schedule is already full) is a benchmark of success.
So, in this new year, we wish you to value only the positive things that life will bring you. Translating this into an aeronautical metaphor, we wish you to fly in a calm and peaceful air…
Happy New Year 2023, to all of you!
Éric Fumey – SE AVIATION AIRCRAFT
Our customers, their aircraft…
The GVVT and its glider tow-plane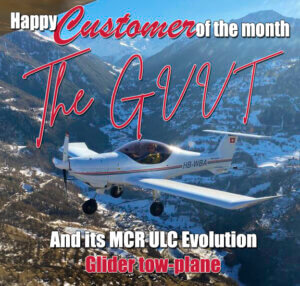 The GVVT is one of our customers! Behind this acronym hides the Grouppo Volo a Vela Ticino, the sailplane club of Ticino (Switzerland) which, for of our newsletter, is represented by Matteo Morisoli.
Matteo, 44 years old and 4.000 flight hours, is the pilot of the club's tow plane: an MCR ULC Evolution. Registered HB-WAK, this machine has been towing glider pilots since 2014 at a rate of 150 hours/year. With its Rotax 914, increased from 115 hp to 121 hp (thanks to an inter cooler), this brave little ULC is not afraid of towing sailplanes such as, for example, the club's Nimbus and its 800 kg!

According to Matteo, this MCR is 30% more competitive than its predecessor, which was a 260 hp Piper PA-25 Pawnee! Matteo also reports that, every year, the club participates to "summer camps" in the Swiss Alps, and despite of the high altitude of the platforms, the aircraft is better than the others.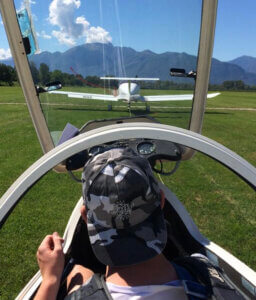 The club likes the MCR ULC Evolution so much, that they use a second one: the HB-WBA.
This one is a private aircraft, and used as a spare plane as it is now, since the propeller of the first one is at the MT-Propeller factory for maintenance. Its owner (who wishes to remain anonymous) specifies that he also uses it to travel, in particular to Croatia which he reaches in 1h30 of flight!
The MCR ULC Evolution is definitely an all-purpose tool, or rather, one might be tempted to say… a real "Swiss Army knife"!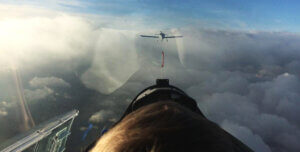 When Matteo talks about the GVVT's MCR ULC…
We are 10 pilots to take turns on the MCR ULC Evolution of the club, and we are all delighted by its tow plane performance! Moreover, the Swiss legislation is very strict, and therefore very expensive. Consequently, the low operating cost of the ULC makes it even more attractive for the GVVT. For example: the PA-25 consumed 80 liters/hour of Avgas, where the MCR requires only 20 liters/hour of unleaded 98. In short, for us, it's the perfect machine!
What's new with SE AVIATION AIRCRAFT?
The MCR ULC with parachute increases to 525 kg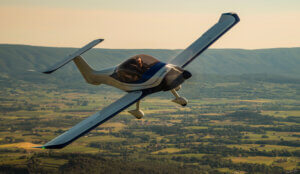 In December 2022, we received DGAC's (French aviation authority) approval to increase the MTOW of the MCR ULC with parachute from 472.5 kg to 525 kg. This project has been completed thanks to the studies and work carried out by the SE Aviation Aircraft teams, such as, for example, a carbon reinforcement in the nose gear.
To find out if your ULC is eligible for this modification, we invite you to read the service letter SL22J0051 on our website.
And the MCR-4S to 820 kg!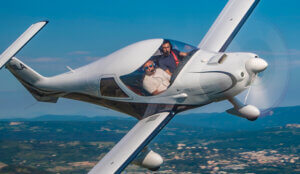 For SE Aviation Aircraft, last December was definitely a satisfying one. In addition to the DGAC approval for the ULC, the MCR-4S was also approved to increase its MTOW from 750 kg to 820 kg. The service bulletin BS22K0052 is also available on our website. For more information, you can also contact us by email or by phone at +33 3 81 89 70 84.