Newsletter June 2023
17 August 2023
Our Customers, their aircraft…
Frédéric, Julien, and their MCRs…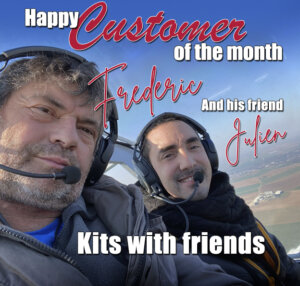 Frédéric Francomme is one of our customers. Professional helicopter pilot with 10,000 flight hours, he is also a private pilot for 17 years, with 1,100 flight hours on light aircraft. Based in Étampes (France) and member of the Racer Club, he has flown DR-400s, Cessnas, Jodels, TB-20s, SF-260s, Pilatus and, of course, MCRs, since he and his friend Julien Arcanger own several of them…
It was in 2018 that Frédéric discovered MCRs. Well, almost… Because in reality, it was the ancestor of the MCR-01, the MC100, Michel Colomban's amateur-built two-seater. That same year, he made a flight on the MCR VLA, and was won over by the machine.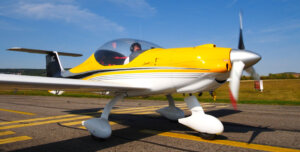 So, in 2019, he buys the MCR VLA F-PXMC, but the aircraft needs to be refurbished: built in 2002, with 600 flying hours on the clock, it's disassembled and hasn't flown for a long time. It will take him a year and a half to restore it, and even better: the F-PXMC will receive new hydraulic brakes, an MT Propeller controllable-pitch propeller, our new flap system and a new paint scheme that elegantly combines yellow, black and white.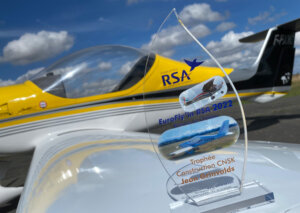 With his VLA (now almost a Sportster Evolution, given its modifications), he traveled all over France, and even won the CNSK Jean Grinvalds construction trophy at the EuroFly'in RSA 2022.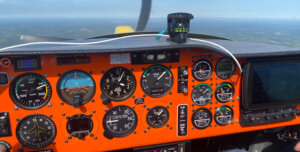 But Frédéric Francomme's story with MCR doesn't end there. While looking for parts for the F-PXMC in Switzerland with Julien Arcanger, the two men came across a batch of three VLA kits, sold at an attractive price. Since Frédéric had acquired a good deal of experience restoring the F-PXMC, he and Julien decided to assemble these machines for resale. And the two friends didn't just sit around: the first VLA, registered F-PAJU, was sold last autumn, and the second will go on sale in October 2023.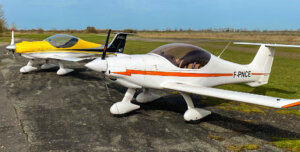 Finally, the yellow MCR VLA F-PXMC will be sold this month. If you're interested in the third one, don't delay: contact us and we'll put you in touch with Frédéric and Julien. And if you're too late, you can always find what you're looking for on the SE AVIATION AIRCRAFT website, in the "Sales" section.
Frédéric speaks about MCRs…
With MCRs, economical travel is guaranteed! For example, the F-PXMC flies at 260 km/h, consuming just 15 liters/hour. The fuel consumption ratio is better than a car. With its small size, there's always room in a hangar for an MCR. And thanks to its lightness, with a tailwind, I've already flew at a ground-speed of 300 km/h. In these conditions, I can cross France in 2h30. It's a really good machine!
What's new with SE AVIATION AIRCRAFT?
FLY'IN MCR in Pontarlier
Join us on September 9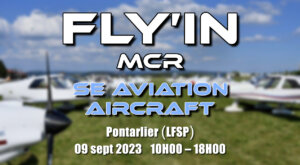 We invite you to get together with other MCR enthusiasts on Saturday, September 9, 2023, from 10 a.m. to 6 p.m. (last departures), at Pontarlier airfield (LFSP). To enable us to have an idea of the number of participants, please complete our online registration form before August 15, 2023.

On the day, you'll be asked to pay €15 per person. This fee includes a meal of local specialities, as well as drinks.
We look forward to seeing you and sharing our passion for MCRs!
New: check out our Goodies!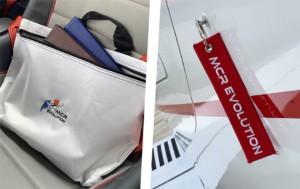 You've been asking for a while… and finally: SE AVIATION AIRCRAFT goodies have arrived! Caps, T-shirts, aluminum water bottles, "remove before flight" flames and MCR EVOLUTION embroidered bags are just the first in a long series to come…